Roberta Perry has been a driving force in the development and growth of the themed entertainment and leisure entertainment industries for more than 25 years. She is a founding member and a past president of the Themed Entertainment Association (TEA), a founding member and a past chairman of the Nightclub and Bar Association, a founding member and a past board member of the National Restaurant Association Marketing Executives Board, and a past board member of the NFL Sunday Ticket Advisory Board. She has also served on the Seattle Fair Campaign and Ethics Board.
She is a business development and strategies consultant working for dozens of clients worldwide including:
Edwards Technologies Inc.
Cirque Du Soleil
Paramount Studios Creative Services
LA Center Studios / WFW Company
Cerritos "Experience" Library
The WOW Factor, Inc.
Roberta Perry is featured as part of author
Natasha Duswalt's newly released book! Click on the image
for details…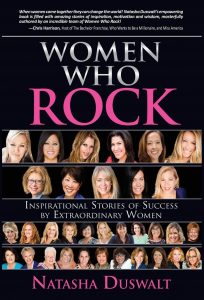 In addition, over the past 20 years, she has conducted communication workshops and seminars for such corporations and associations as IBM, InfoPeople, UCLA Anderson School of Business, Xerox, Aerospace, Mattel, City of Hiroshima, Association of Japanese Businessmen, California Chiropractive Association, American Cancer Society, Pioneer Women/NA'Amat, Los Angeles Women in Music, Reflexology of California, Fox Studios Mentoring Program, Philippine American Society of Certified Public Accountants and the ITIA (International Tourism Investment Association – China). Roberta's offices are located in Los Angeles, California.
---
Breakout Session
Roberta Perry will be available to speak about making the right moves in the business environment.